Automatic Barriers & Car Park Barriers
Our automatic barriers, car park barriers and traffic barriers enable vehicle parking concerns, around every modern urban development, to be addressed in a safe, cost effective manner.
Whether it is FAAC, CAME, BFT, NICE, BENINCA and most other major manufactures we can access parts for all your installation, breakdown and service needs.
The expansion of car usage on the roads of the UK continues to rise and is expected to carry on doing so in to the foreseeable future, undoubtedly creating a situation where planning for and creating secured car parking spaces with traffic barriers becomes even more critical.
Gate automation is an efficient way of maximising security and convenience.
There are several ways in which automated gates can benefit you and your premises, most of them centre on the fact that you don't have to leave your vehicle to open the gate yourself:
Staff and visitors can stay out of inclement weather.
Dedicated gate operators are not required.
Gates can be operated manually if power fails.
Automated gates are not left open by mistake, so security is improved.
Electronically operated gates open and close easily even in windy conditions that make it hard for some staff to operate manual gates.
Commercial Gate Automation
We can also manufacture, supply and install automated security gates for a wide range of commercial premises throughout the UK. We can implement a variety of sensors, timers, key, card access or centrally controlled systems to make sure that your gates work smoothly and efficiently.
Remote Controlled Gates
We can also provide a range of remote control features with your gates. Many large premises prefer their security staff to control their gates from a central location. Others issue their staff with remote control fobs to allow access to their grounds.

For more information.
As experienced installers we can supply and fit gate automation systems discretely within or near posts or even underground. We can provide automatic rolling gates, cantilevered sliding gates, 'wooden electric gates', automatic opening wrought iron gates and a range of electric gates for driveways.
The wrought iron, metallic or timber gate sections of our automated gates can be bespoked to sympathetically blend in with or compliment your premises, driveway and or household. We work with a range of manufacturers.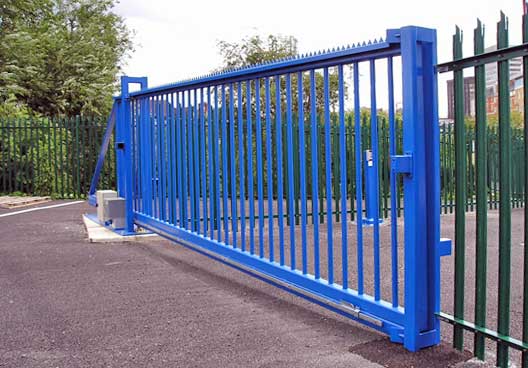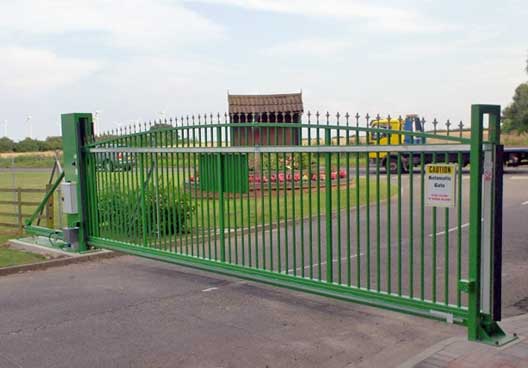 If you would like a no-obligations quote, just send us an email with the size (Height and Width) of your opening.